What are Casino Bingo Patterns

Bingo is a simple, fun, and a convenient form of casino lottery game that continues to grow popular among gamblers from around the world. There are two kinds of Bingo at online casinos. They are called single-player Bingo and multiplayer Bingo. Both are enjoyed by players because of the rewards that await them if they become lucky.
In single-player mode, some Bingo games at online casinos like the 80 Ball Bingo feature a bingo card with a selection of numbers ranging from one to eighty. You typically pick ten numbers per round as maximum. In online Bingo, numbered balls are chosen through a Random Number Generator or an RNG that produces winning numbers completely at random.
You won't have to worry about keeping track of your patterns when you play online Bingo because the game will automatically let you know what the winning numbers and patterns are.
Most Bingo game variants you will find across online casinos are:
75-Ball Bingo
This Bingo variation is more popular among players in the USA. The numbers range from one to 75 where five columns of fifteen balls correspond to one of the 'Bingo' letters. The goal of 75-Ball Bingo is for you to match the game pattern on your Bingo card when winning numbers are drawn. Patterns come in a huge variety as many as 6,000 possible combinations that include static, variables, corners and overall.
90-Ball Bingo
This Bingo variant is more popular among players in the United Kingdom and Australia. 90-Ball Bingo is similar to other forms of the game that will require you to complete certain patterns to win. The Bingo card in a 90-ball variant has three rows and nine columns. You typically get to pick up to fifteen numbers depending on the game's rules.
Winning patterns are identical.
There are three patterns featured in 90-Ball Bingo.
Each of the three patterns has a price.
Patterns are one line, two lines and full house.
80-Ball Bingo
This Bingo variant is quite popular among players around the world. An 80-ball Bingo game has numbers that range from one to eighty. You usually get to pick up to ten numbers at most.
Since there are variants of Bingo, there may be different winning patterns as well depending on the game. Be sure to always check the rules section of the Bingo game you will play at an online casino.
The common game patterns are: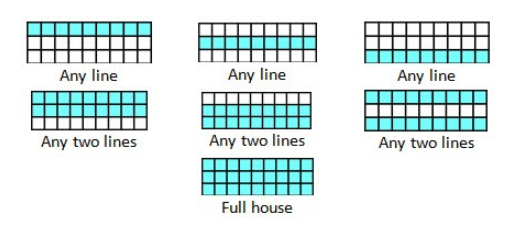 Know more about Casino Tips here
Static
A static pattern in a standard bingo game pattern cannot be rotated or shifted. Additionally, they are usually only won once each highlighted cell is marked on a single bingo card.
Variable
A variable pattern is also referred to as 'Crazy Patterns' because variable patterns may be rotated for a winning pattern match.
Four Corners
You must cover all four corners of their game card to win a four corner pattern in a game of Bingo.
Coverall
A coverall is sometimes also called 'blackout'. You need to get all of the numbers on your board. There is commonly a jackpot with this game that may change as more calls are made.
Wild
Wild patterns in Bingo cards feature scattered patterns that stay in the same place (static) but may be anywhere on the card.
Now that you are familiar with the different patterns made in Bingo games, you'll become more aware of your card when the winning numbers are drawn. However, keeping track of your card may be a little time consuming. You don't necessarily have to devote all your attention because the game will automatically highlight your winnings for you. How convenient, right?