Famous Sportsmen Who Gambled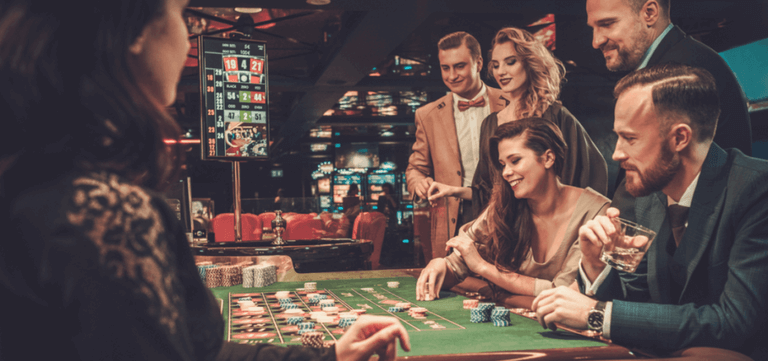 It is not at all unusual for well-known sportsmen to encounter some bumpy stages throughout their whole career journey. You might be surprised upon knowing how many athletes have damaged their own reputation and careers because of their scandalous gambling activities.
Gambling can be a really fun and relaxing hobby as long as it is enjoyed in moderation. It only becomes bad if one becomes addicted to it.
Players who have made their benchmarks throughout their sports careers earn lots of money. This could probably be the reason why these rich athletes don't seem to worry about how they spend their money at the casino tables. Want to know ten sportsmen who gambled with their careers?
Here are the top five professional players who love to put high stakes when they gamble:
10. Lloyd Honeyghan
Llyod Honeyghan is a Jamaican-born British former professional boxer. He competed from 1980 to 1995. The retired boxing fighter reigned as the undisputed welterweight champion from 1986 to 1987. Additionally, he held the WBC, Ring magazine and lineal welterweight titles twice throughout his boxing career.
Boxers are among the few sportsmen who can place bets on themselves. When Honeyghan had a match against the crowd favourite Don 'Cobra' Curry in 1985, nobody gave him any hope that he would win. Luckily, the fighter was not short on self-confidence. He placed a $5,000 dollar bet on himself at a five-one and managed to pull what was deemed impossible for him to attain.
9. Pete Rose
Pete Rose was an American former professional baseball player and manager during his prime days. He played in Major League Baseball from 1963 to 1989.
The retired baseball player got accused of betting on Cincinnati Reds games while both playing and managing. It was reported that Rose wagered a minimum of $10,000 each day.
There were even accusations that he allegedly placed bets against his own team before. By his own admission, he said to have gambled on games both as a player and as a manager. The player denied this and claimed that he bet on the Reds 'every night'. He later received a permanent ban from baseball games in 1989. That's when his gamlbing addiction skyrocketed as his career completely went down the drain.
The banned baseball star's gambling obsession did not stop there. Pete Rose makes about $1 million per year from endorsements and autograph signings.
8. Tiger Woods
Tiger Woods has been the face of professional golf for more than a decade. He is the most recognisable player in the world of golf. He is indeed a master at the game. However, his name used to be attached to several scandals that affected his reputation.
One of these is his gambling hobby. He was known for losing millions of bucks at Blackjack tables. Tiger is reported to bet $25,000 on a hand of his favourite casino table game. There were even claims that the professional golfer put down a staggering $50 million worth of money on Las Vegas casino tables.
Tiger Woods is rumoured to stake $200,000 on one hand of Blackjack. It is his favourite game after all. Some people think it was the 'High-roller' life that encouraged the start of his growing fondness for gambling. The player's net worth is estimated to have reached over $1 billion.
Some even suggest that it was Wood's high stakes gambling addiction that tarnished his personal lifestyle and golf career.
7. Charles Barkley
Lots of basketball fans will remember Charles Barkley. The retired basketball player was known for being one of the most powerful rebounders in the NBA. He was also a great scorer and multiskilled on the court. When Barkley was off the court, he had a major vice that ate away his career profits. As of 2019, his net worth is estimated to be $40 million.
The basketball player's gambling addiction went out of hand several times. In a talk show in 2017, Charles admitted that he had lost over a million dollars for twenty times at casinos. That is an estimated amount of a whopping $30 million!
It is no secret that the retired athlete has had serious gambling issues in the past. However, Barkley grew determined to change his mentality towards his gambling addiction. He claimed that gambling only became a lot more fun to him when he finally had gotten a wake up call. This is because his friends called him an idiot for his crazy money mismanagement.
Charles Barkley was considered as one of the National Basketball Association's most dominant players in history. He played professionally for sixteen years. He appeared as part of three different NBA teams which are Philadelphia 76ers, Phoenix Suns, and the Houston Rockets.
The retired basketball star seems to be doing well now. He was recently seen to put his shooting skills on display in the American Century Championship in July 2019.
6. Wayne Rooney
Wayne Rooney was a talented footballer. He played for Manchester United, Everton, and even captained the England National Team. This English footballer was even once titled as the biggest star in the world of football. He is said to have a net worth of $120 million. This made him the fourth richest footballer in the world before his retirement in 2017.
In between Rooney's booming football career, he was just barely twenty-years old when he had gone through some serious gambling problems.
It was reported that the famous striker had accumulated a massive amount of over a million dollars worth of debt. He gambled on soccer, horses, and dogs. Additionally, it was also rumoured that he once lost $100,000 in just two hours of his stay at a casino.
These stories about the ex-captain's gambling problems made it to the national headlines. The Church of England even criticised him because he proudly promoted an online casino called 32Red. The former England football captain was condemned for being a bad influence to sports fans when he signed a multi million-pound overall deal with the sports betting company.
Thankfully, the retired English footballer has recently sworn to quit his notorious gambling hobby once and for all. He has his wife and loving kids to thank for. If there's anything that's he's serious about now, it is him not wanting to gamble his 11-year marriage ever again.
5. John Daly
John Daly is a former golf champion. He had always been open about his gambling addiction ever since. However, his fans were shocked after the athlete revealed how severe his obsession was. The retired 1991 PGA Championship professional golfer claimed that he lost $55 million between 1991 and 2007.
Daly admitted that he threw away over $90 million in gambling losses. The golfer said he only gathered $35 million from his unhealthy hobby. Some of his gambling days were epic. One of the most memorable gambling stories he has to tell was when he gambled away $1.65 million in just five hours playing $5,000 slots.
4. Art Schlichter
Arthur Schlichter is a former quarterback in the professional field of American football. He was known for his four-decade gambling addiction. Additionally, the legal problems that emerged from his severe gambling obsession further ruined his career. The National Football League suspended him in 1983.
He lost his football career in 1985 to his $700,000 worth of debt acquired from gambling. Art was later arrested in 2012 for being involved in a multi-million dollar sports betting scam.
Art is currently serving ten years in federal prison. He was proven guilty for stealing millions of dollars. The ex-quarterback committed the crime to sustain his unhealthy gambling habit.
3. Phil Mickelson
Philip Mickelson is an American professional golfer. He is commonly known for his nickname 'Lefty'. He has won numerous times. One of his achievements is his victory from five major championships, three Masters titles, a PGA Championship, and an Open Championship.
However, it is rumoured that Lefty has quite a gambling habit. It was reported that he lost over $200,000 to his fellow golfers. There have also been stories of Mickelson to bet on almost anything. This also includes stories of him winning tens of thousands of dollars from Super Bowl and World Series bets.
Golf legend Phil 'Lefty' Mickelson's net worth is believed to be at around $400 million. The professional golfer has some gambling stories in the past. As of now, Phil claims he is a newly changed man after his beloved wife gave birth to their son Evan.
2. Floyd 'Money' Mayweather Junior
Floyd 'Money' Mayweather Junior was the first ever boxer that turned himself into a $1 billion dollar fighter. He is an American professional boxing promoter and a former professional boxer as well. Mayweather Junior began his boxing career in 1996 until 2015. He made a one-fight comeback in 2017 against Conor McGregor.
There is one particular reason why the boxing legend's nickname is 'Money'. It is obviously because he showers in immense wealth. The boxing champion has an estimated net worth of somewhere between $700 million to $1 billion. He is also well-known for his collection of luxury cars and private jets.
The wealthy boxer wasn't permitted to bet on himself ahead of his own matches before he retired. However, he has been rumoured to go on gambling sprees. Mayweather isn't shy to brag about his wins either. There were times he won $90,000 from betting on college football. Another glorious event was when he won a $101,000 Video Poker jackpot not so long ago.
1. Michael Jordan
Michael Jordan is a basketball legend in NBA history. He was dominant on the offensive end of the court as he was on defence. The legendary athlete knocked everybody off their feet on the court with his tenacious moves. Michael Jordan's net worth is estimated to be over $1 billion. He also became a king for amassing the wildest gambling stories.
The 56-year old basketball legend became known for his high-stakes gambling hobby right after he officially retired in 2003. Jordan admitted to having lost over $165,000 at an Atlantic City casino in 1993. Additionally, a San Diego businessman also asserted that the NBA champion owed him a hefty sum of $1.25 million over a game of golf.
Reports also say that the big-wig athlete had lost over $5 million at a Craps table. He is usually caught up in reports on gambling millions on the golf course. Jordan is also rampant at losing big bucks at the Poker table. He was even spotted at the same Poker table once with Charles Barkley.
This may sound crazy, but you should know that Michael's gambling obsession actually made him do prop bets on just about anything. He once wagered on the arrival of his own luggage during team USA's flight after the Olympics. Jordan wagered that he was going to be the first guy to receive his luggage while the rest of the group waited for theirs.
The craziest thing about it? He actually won that night and bagged the easiest $900 of his life! However, he later revealed that he had actually bribed the airport staff just to win the prop bet. Nice move, Michael.
Another bizarre thing that the multimillionaire face of the Jordan brand did was betting $100,000 on rock, paper and scissors matchups.
Despite Michael Jordan's gambling hobby, he is still the guy that made basketball so loved and popular among millions of fans around the world. He is the ultimate face of the NBA after all.
One of the many things that people adore Jordan for is his compassion. Michael Jordan recently donated $1 million to Hurricane Dorian relief efforts in the Bahamas this year. This random act of kindness of his is just among the other charitable things he has done for the community.
The basketball legend has reportedly donated more than a million dollars to foundations and charities. He may have lived a life of gold, but that is because his heart is too!