Understanding Casino Terms and Conditions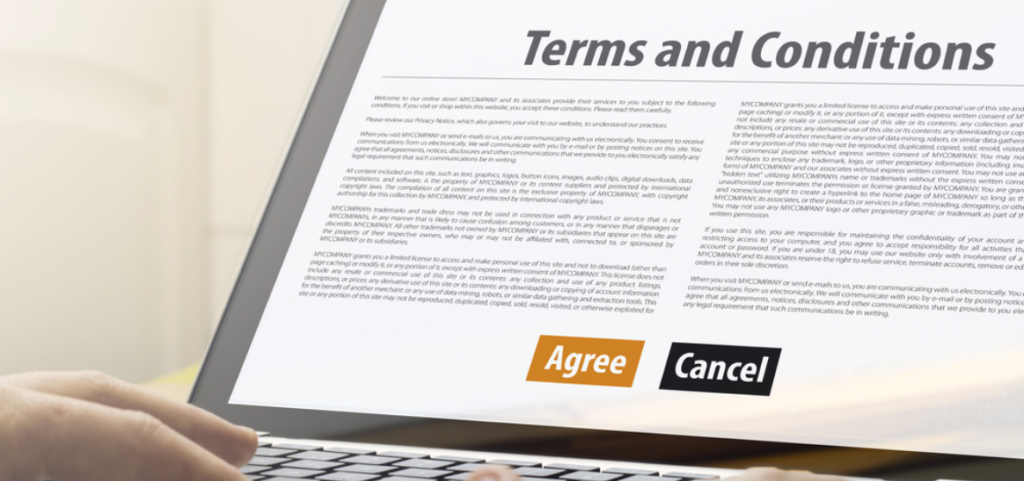 Online gambling seems to never decrease in popularity. It has even grown significantly by the day and the number of people that indulge in it continues to rise as well. This is primarily because of all the rewards and delight that come in a package of cash rewards, entertainment, and relaxation.
Online casinos are far more generous than land-based casinos because of all the wide array special promotions offered. You will even find some online casinos that would give away new bonuses every week.
However, this does not mean that all players are already eligible to claim bonuses. There are a few demands required by the online casino that you must fulfil before you can enjoy a certain bonus. Terms and Conditions (T&Cs) are made up of any requirement set by the casino.
What are terms and conditions?
Every service for both online and offline platforms that you use in your daily life are bound by terms and conditions. These are basically the text heavy articles that pop up on your screen when you sign up for a social media account. A disclaimer also appears when you launch websites. Majority of internet users ignore this because T&Cs are honestly time-consuming to go over—and click 'Agree' anyway.
Online casino terms and conditions usually go in detail about:
Casino processes (the ways the casino manages its affairs on the website)
Player account procedures
KYC (Know Your Customer') procedures
Deposit and withdrawal procedures
Gaming rules
Contribution percentages of the different casino games available on the site
Prohibited activities
IT notices
Intellectual property rights
Personal data processes and privacy information
Responsible gaming information
Company information
Other legal information
The terms and conditions should give you thorough information on specific topics. These typically cover how the online casino operates, what's not allowed to do, what to expect, and many more amongst other things. The T&Cs vary significantly from casino to casino.
Why do online casinos have terms and conditions?
These serve as a virtual contract between the user and the service provider. In this case, it is the player and the online casino. It aims to protect both the site and its players to ensure that certain agreements are met by both involved parties.
What should I expect from terms and conditions?
Terms and conditions guarantee the rights and interests of the player and the online casino. Online casinos are businesses that share a common end goal. This is why T&Cs are sometimes in the casino's favour. An example of this is the house edge. Remember that a casino will always have an advantage over you in most games. This is how the casino makes profits from your wagers.
Why do I need to check the terms and conditions of the online casino?
It is important for you to become aware of the details especially if your money is involved. You need to make sure that you are comfortable with any demand the casino will ask you to fulfil. The terms and conditions should also tell you about limitations on certain aspects. These may cover discussions about deposits, withdrawals, and how to claim bonuses.
Where can I find the terms and conditions of the online casino?
You will usually spot the terms and conditions on a different web page. Most T&Cs are found at the very bottom part of the website. Some online casinos usually present their terms and conditions in your player account dashboard. Others may also place theirs on another menu that you need to navigate on your own.
Contact the online casino's customer support staff if you can't find access to their T&Cs. You may request them to provide you with a copy of the whole document.
The only thing that you must do is to read the terms and conditions thoroughly. Understand what the disclaimer says before you sign-up at any online casino.
What are some of the jargons used in terms and conditions?
Know Your Customer (KYC)
Most licenced online casinos will have to validate if their players are really legitimate people as they claim themselves to be. This means that you need to provide the online casino with additional personal information before you're allowed to make deposits and withdrawals.
Here is a list of documents commonly required by most online casinos:
Your identification card
Your driver's licence
Your latest home utility bill or bank statement
Your passport
You need to provide the casino with scanned copies or photos of the following documents listed above. This is an important procedure that all players must comply with to verify their casino account. This process is called KYC and there are many reasons why it is necessary.
Here are the following reasons why the KYC is done across online casinos:
It prevents underage gambling
It limits player accounts to one per person
It avoids money laundering issues and organised crime
It keeps frauds away from the casino
It meets the requirements of licencing bodies and adheres to gambling regulation
Additionally, some casinos will require documents from players who intend to make their first withdrawal request. Other online casinos will only require you to provide personal documents when the total withdrawal reaches a certain sum. You typically need to submit them once per online casino. This is why you need to pick only the best casinos and stick to them so you would not have to do the same process over again.